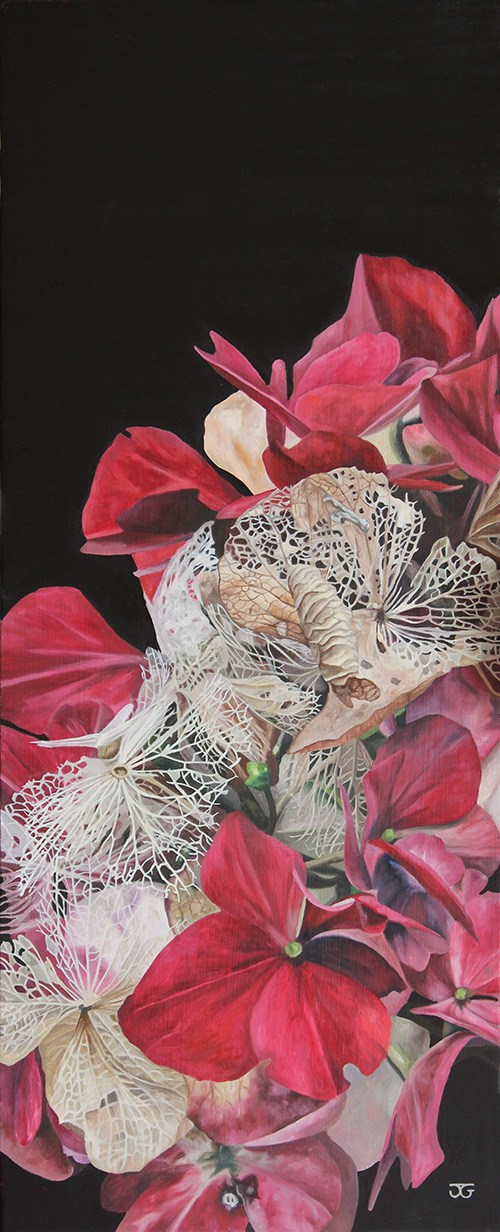 Jackie Gwyther PhD, FdA, SBA fellow
Beauty, nature and sensitivity lie at the heart of her art.
The intriguing and intricate beauty of nature inspires her to create intelligent paintings celebrating the natural world around her. Her work is recognisable by her realistic style, delicacy of touch, combined with a sensitive use of harmonious natural colours and balanced close-up compositions.
Her fine art journey followed a career in scientific research. In 2010, Jackie decided to convert her lifelong love of art from a pleasurable hobby into a focused art education. An Access to Higher Education Diploma (Art and Design) from UCA Maidstone in 2011 led onto a Foundation Degree Arts with Distinction, from the University of Greenwich (K College) in 2013. Since graduating, she has continued to develop and refine her observational and technical oil painting skills through courses at Heatherley's School of Fine Art and the Art Academy, through master classes with professional portrait artists and by participating in weekly life and portrait painting groups.
Jackie is a fellow of the Society of Botanical Artists (SBA) , member of and exhibitor with The Kent Painters Group, The Sevenoaks Visual Arts Forum, The Stone Street Art Group, Art in June and South East Open Studios. She has exhibited with The Royal Society of British Artists 2022 and was longlisted for the Jackson's Painting Prize 2022. She has an life sized portrait on permanent display in Sevenoaks town centre and has a painting included in 'Portraits of NHS Heroes' book curated by Tom Croft.
Her daily country walks give her time and space to notice and relish the subtle beauty of plants, whose aesthetics qualities are often disregarded by the passer-by. A particular quality catches her interest, be it the intriguing light playing over the leaves, the negative shapes drawing her in, the decorative shapes of shadows or the translucency of leaves against the sky. Jackie is inspired to elevate the plant by capturing these elusive qualities in oil paint. Her subjects are varied and ranging, from shiny laurel leaves, to decomposing hydrangea petals to common wild plants and weeds. She uses a semi-restricted palette of the warm and cool three primaries, white and raw umber, giving herself the challenge of always mixing her greens from those. Jackie takes great pride in the attention to detail and superior presentation of her work. Over the last few years it has been an enormous comfort to her to observe Nature continuing her beautiful work regardless of the uncertainties elsewhere and she endeavours to capture this optimism and hope in her artworks as well as sharing her unique perspective of floral beauty.
Oil painter based in Sevenoaks, Kent.